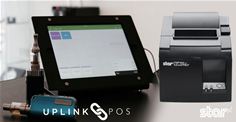 High Wycombe, 20 June 2016 – Star Micronics announces that POS solution provider UpLinkPOS is holding an event at Tablites Chingford, London on Wednesday 22 June 2016 to provide business owners and managers with an opportunity to experience a range of iPad mobile POS systems with Star printing solutions. This is the first of a number of events to be held by UpLinkPOS across the UK.
UpLinkPOS will be demonstrating Star's TSP143IILAN and TSP654IIBI receipt printers as well as Star's combined Bluetooth printer and cash drawer solution mPOP™. This event will allow those operating in retail and hospitality to fully understand the features and benefits of upgrading to the latest mPOS technology.
With its unrivalled expertise within the POS industry, UpLinkPOS provides tailored solutions as well as installation and support that are second to none. One of its latest successes is Tablites in Chingford, London. A rapidly growing E-Cig brand, Tablites is part of the vaping business explosion across the UK.
With the new modern POS system in place, Tablites Chingford has stayed on top of competition in the area and business has been easier than ever. With the long winded processes cut down, which most retail stores have to go through, Tablites can focus on running their business and getting in the right products to make the store perform at its maximum. These decisions are made easy using accurate figures viewed on the powerful back office reporting.
Harry Finnerty, Project Manager, UpLinkPOS states: "UpLinkPOS is excited to partner with Star as our leading hardware supplier. The market of mobile POS is just beginning and is going to change retail and hospitality for the better, with a robust, universal system which is capable of more than any other till system. With software written and designed for the Apple iPad and support peripherals designed to create seamless connections the new possibilities are endless, more efficient and a sound investment for the future."
As Annette Tarlton, Marketing Director, Star Micronics EMEA, adds: "We are delighted to be working with UpLinkPOS to provide retail and hospitality with the very latest mPOS technology. At this event, visitors will be able to experience a range of Star printing solutions including a stylish combined Bluetooth printer and cash drawer solution with a secure iPad enclosure as well as a dedicated Bluetooth printer and LAN printer for those customers requiring an mPOS solution with a larger cash drawer."
Background information on UpLinkPOS
UpLinkPOS is a modern, innovative point of sale provider. We work with you to select point of sale software and hardware delivering the best market solution for your business. With our experience in the industries we serve we have an in-depth understanding of the requirements for each member of your team. We are able to tailor build solutions for retail, hospitality and pop-up industries; from installation, programming, training and hire we have the widest range of services within our field while maintain the highest quality of service. www.uplinkpos.com
If you would like to attend this event, please register your interest at:
https://www.eventbrite.co.uk/e/ipad-pos-demonstration-registration-25502136577
Background Information on Star Micronics
Founded in 1947, Star Micronics is one of the world's largest printer manufacturers and has facilities for worldwide production, marketing and support. Employing over 1900 staff and achieving turnover in excess of £250 million, Star Micronics has developed a POS printer portfolio that spans thermal and dot matrix printers and mechanisms, designed for barcode, ticketing, receipts and labelling. Star's proven technology is also being utilised to develop reader/writer systems for visual/smart and magnetic stripe cards and to install print mechanisms in multimedia kiosk environments. The Star Micronics' range is available internationally via a distribution channel comprising distributors and dealers.
-oOo-
For further information, please visit www.Star-EMEA.com or contact:
Claire Smith
PR Manager
Star Micronics EMEA
Tel: +44 (0)1494 471111
Email: Csmith@Star-EMEA.com
Harry Finnerty
Project Manager
UpLinkPOS
Tel: 01245 939028
Email: info@uplinkpos.com