SMi Reports: Registration for the Future Armoured Vehicles Central and Eastern Europe conference closes in just over 4 weeks.
SMi Group's fourth annual Future Armoured Vehicles Central and Eastern Europe conference will commence in Prague, Czech Republic on 21st and 22nd May 2018.
The event has already attracted a global audience of procurement and armoured vehicle experts from the military, research and industry. Nations attending include: Austria, United Kingdom, Croatia, Czech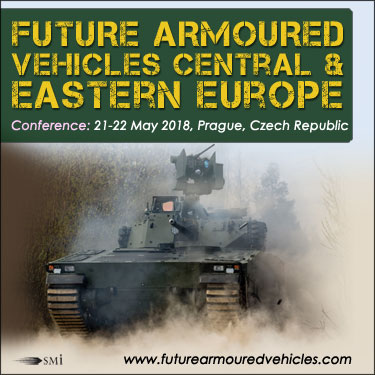 Republic, Germany, Netherlands, Belgium, Norway, Poland, Romania, Slovenia, Spain, Sweden, USA, Italy, France, Finland, Israel, Canada and more.
With just four weeks to go, a list of attendees has been released featuring the most senior and international edition yet.
Attending organisations include: Army Concepts and Capabilities Development Center Germany, ARTEC GmbH, Austrian MoD, BAE Systems International, Burgess Consulting, Croatian MoD, Czech Armed Forces, Czech MoD, EnerSys Ltd, Flensburger Fahrzeugbau Gesellschaft GmbH, General Dynamics European Land Systems, German Army, IBD Deisenroth Engineering GmbH, Indra, Kongsberg Defence & Aerospace AS, Leonardo, Lockheed Martin, Microflown AVISA, MITTLER REPORT VERLAG GMBH, Nammoá, National Armaments Office, NATO HQ, Nexter Systems, Norwegian Defence Logistics Organisation, OCCAR-EA, Parker Hannifin Ltd., Pearson Engineering Limited, Plasan Sasa Ltd, Polish MoD, Precision Control Systems, PSM Projekt System & Management GmbH, Rheinmetall Landsysteme Gmbh, Rohde & Schwarz Praha Sro, Romanian Army, Royal Netherlands Army, Slovenian Armed Forces, Soucy Defence, Spanish MoD, Swedish Armed Forces, Thales, Ultra Electronics, US Army, US Army Europe, VTÚ s.p., Odštepný závod VTÚPV, and many more.
The full list of attendees, including organisations, job titles and countries can be found in the download centre of: http://www.futurearmouredvehicles.com/Vuelio
With the key aim of optimising combat vehicle deployment and development to meet the requirements of Central and Eastern Europe, this exclusive event boasts the expertise of 31 senior speakers, 28 sessions and 10 industry exhibitors.
For information on exhibiting or sponsoring: Contact Justin Predescu on: +44 (0) 207 827 6130
Registrations can be made on the event website.
A detailed agenda and full speaker line-up can be viewed on the event website.