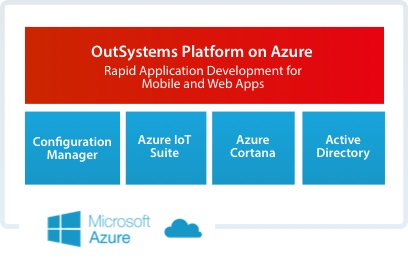 London — August 9, 2017 – The latest version of the OutSystems low-code application development platform, powered by Microsoft Azure, is available in the Microsoft Azure Marketplace. Azure customers can now leverage the OutSystems 10 platform, fully optimised to run on mobile devices with top performance, zero delays, and the smoothest transitions and animations.
Using the OutSystems platform, any developer can now build the types of secure, scalable, enterprise-grade mobile apps that in the past only highly skilled software engineers were capable of creating. This latest release led OutSystems to be recognised as a Leader in Gartner's 2017 Magic Quadrant for Mobile App Development Platforms, positioned highest for ability to execute.
"OutSystems 10 is changing the way mobile apps are generated so our customers can deliver truly engaging experiences," said Bob Wilson, vice president of global channels and alliances for OutSystems. "Running on Microsoft Azure brings an added level of reliability and trust our customers have come to expect."
Sajan Parihar, Director, Microsoft Azure Platform, at Microsoft Corp., added: "We are pleased that OutSystems continues to enhance its low-code platform, helping customers build apps visually and easily integrate with other systems. The flexible infrastructure provided by Azure is the perfect complement to mobile applications developed with OutSystems."
Developers can take advantage of software-defined infrastructure, instant scaling, managed database (Azure SQL Database), and identity management (Azure Active Directory) services.
OutSystems is an award-winning platform that's applicable in a wide range of use-case scenarios – from single developers creating a few apps to complex enterprise IT organisations delivering robust application portfolios. The versatility and rich set of OutSystems capabilities provides significant value to a wide variety of Azure customers.
Last year, OutSystems unveiled advanced low-code development capabilities for enterprise mobile applications. Customers using OutSystems 10 running on Azure can:
Build mobile apps once and run them anywhere.
Create high-performance, smooth and highly responsive user experiences.
Access any function on any phone running Windows Mobile, iOS, or Android platforms.
Drag and drop native device and sensor capabilities into their apps.
Build sophisticated and secure offline experiences.
OutSystems 10 is available on the Azure Marketplace.
"OutSystems 10 is changing the way mobile apps are generated so our customers can deliver truly engaging experiences," said Bob Wilson, vice president of global channels and alliances for OutSystems. "Running on Microsoft Azure brings an added level of reliability and trust our customers have come to expect."
Sajan Parihar, Director, Microsoft Azure Platform, at Microsoft Corp., added: "We are pleased that OutSystems continues to enhance its low-code platform, helping customers build apps visually and easily integrate with other systems. The flexible infrastructure provided by Azure is the perfect complement to mobile applications developed with OutSystems."