High Wycombe, UK, 2 May 2018 At RBTE 2018 (2 – 3 May, Olympia, London), LUNDI MATIN, a company specialising in POS software and touchscreen applications, will demonstrate its RoverCash solution on Star Micronics' stand (F100).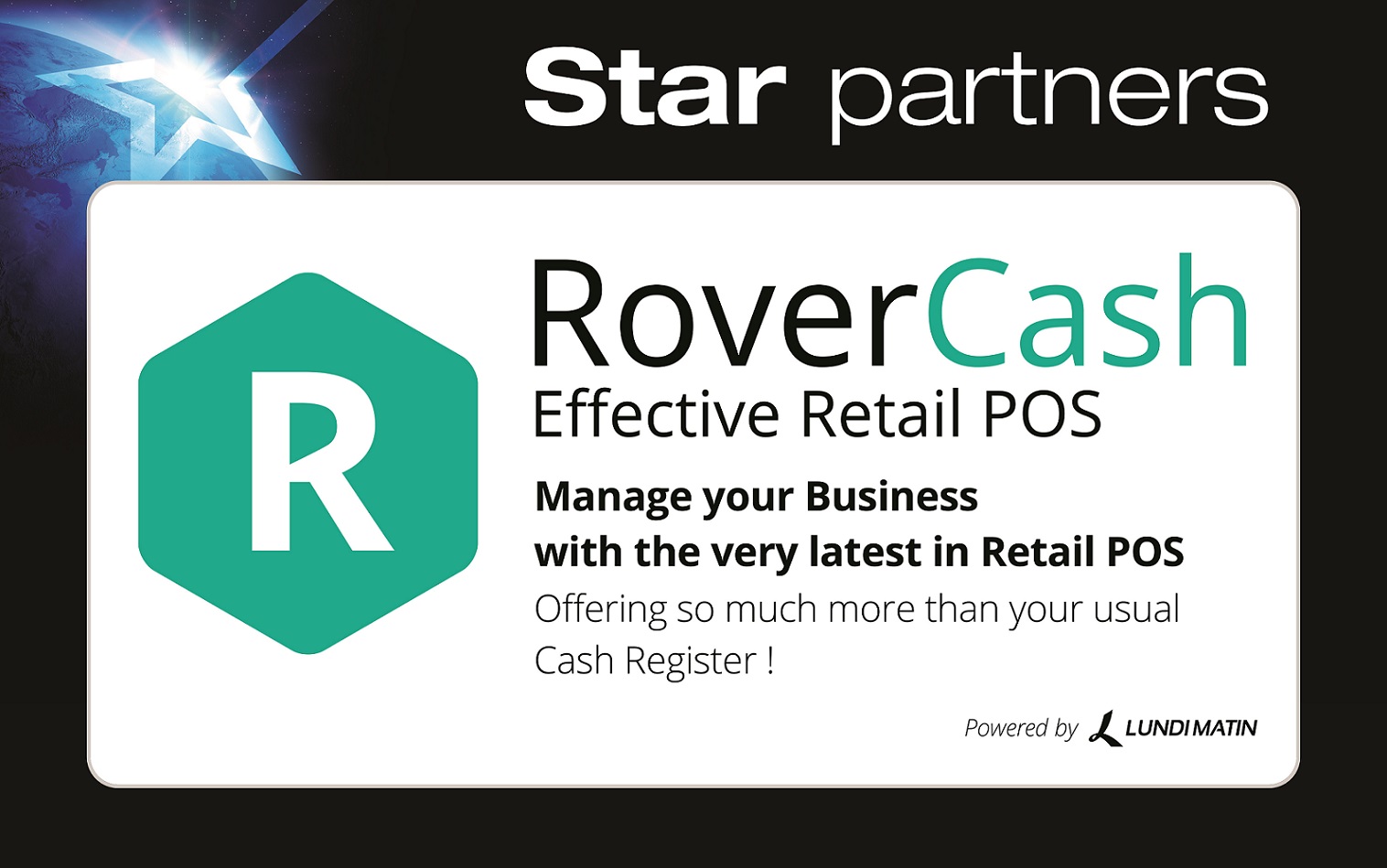 Many software companies have started to develop and market mobile tablet POS solutions designed for SMEs. To stand out in this highly competitive environment, Star Micronics and LUNDI MATIN have developed a strategic alliance to provide a unified solution for point of sale.
The RoverCash app is compatible with various Star devices, designed for fixed point of sale or mobile use. The technical expertise used to develop the app allows connection and setup to take place in a few seconds. Once pairing is established, RoverCash and the peripherals work together in real-time. When validating a cash sale on the application, the cash drawer opens automatically and a tailor-made receipt is printed at the point of sale.
RoverCash software and Star hardware form a complete point-of-sale management system for businesses. Integration with mobile printers also makes it possible to manage sales in pop-up shops or salons.
LUNDI MATIN has chosen Star for its unique line of products offering connectivity at all levels, including the first cabled printer for Apple iPad, allowing communication and charging via the Apple-supplied lightning cable. The latest POS printing technology (TSP143IIIU USB printer) and the all-in-one cash drawer / printer solution (mPOP™) provide retailers with a POS solution that meets retailers needs. Visitors to the stand will be able to experience live demonstrations of each of these hardware solutions with RoverCash software, allowing retailers to understand the different options available.
"With the mPOP™, Star Micronics has designed a true value-added product for the tablet POS market. It's an affordable and elegant solution that works well with our RoverCash software", commented Benjamin Chalande, Chairman and CEO of LUNDI MATIN.
The new TSP143IIIU from the popular TSP100 futurePRNT™ series is the only solution that can currently communicate and charge simultaneously and directly with an iPad or iPhone using an Apple Lightning cable, supplied as standard and providing reliable USB communication.
"We are pleased to partner with LUNDI MATIN and demonstrate their flexible RoverCash software at RBTE," said Annette Tarlton, Marketing Director at Star Micronics EMEA. "With more than 10 years of POS software development experience, LUNDI MATIN offers feature-rich software and a range of Star hardware solutions to provide small and medium-sized retailers with an innovative and intuitive tablet POS solution."